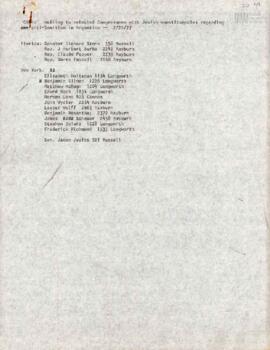 CADHU mailing to selected Congressmen with Jewish constituencies regarding anti-Semitism in Argentina
Listado de congresistas norteamericanos de distritos electorales con mayoría de votantes judía, a los que se les envió correspondencia referente al antisemitismo en Argentina, incluyendo un senador y tres representantes en el Estado de Florida y un senador y once representantes en el Estado de Nueva York.
Se adjunta la carta enviada por la CADHU y firmada por Horacio D. Lofredo y Olga Talamante, dirigida al Senador por el Estado de Nueva York Jacob Jabits en la cual hace referencia al artículo escrito por Harry Maurer y publicado en The Nation en febrero de 1977 en donde se advierte sobe "una de las más desagradables erupciones de anti-semitismo desde el Holocausto" durante el régimen del General Rafael Videla. Se adosa además el mencionado artículo que resume el proceso inmigratorio judío a Argentina y describe la evolución del antisemitismo, hasta el momento, señalando la reciente proliferación de publicaciones nazis, diversos ataques al barrio de Once con pintadas, proyectiles y bombas, así como el ensañamiento de los grupos parapoliciales con los detenidos judíos. Harry Maurer sugiere una conexión entre una bien arraigada cultura fascista, financiamiento de origen árabe petrolero y la Junta Militar.
Comisión Argentina de Derechos Humanos (CADHU)